Our

mission

At The 777, we fund and foster tech startupers with early-stage startups in order to help them develop, nurture and grow their businesses.

We also strive to prepare them to enter the global market and become global market leaders.

Apply
What

we do

?

We provide a range of supportive and advisory services for visionary people who have the ambition to turn their startups into large companies which can be able to contribute with innovative solutions that meet the needs of society not only today but also in the future.

We guide them through their most challenging times and help them wisely make the most important business decisions.
Program
The 777's raison d'être is to provide utmost support for technology-based startups by providing them with the necessary services and needed resources in order to build a sustainable business.
Our incubation program is set to last for a period of 9 months and this is how it works:
Demo day: Once you are selected and integrated into the program, you will be invited for a demo day to talk about your startup and its major goals in front of potential investors.

Reaching the final level means that you have now been accepted to the incubation program at The 777 and that you will benefit from a well-structured program delivered by sector specialists.

Selection: Our team of experts and mentors, most of whom already have startup experience, will invite the selected applicants to a one-on-one interview. After introducing themselves, candidates will be asked to explain in-depth the key points contained in their business plan and discuss their startup goals and objectives with the jury members.

Call for applications: Applicants can submit their application forms only on our website. Each incubation request will pass through various parameters, set up by professional experts and mentors, in order to ensure that only the most commercially viable and scalable proposals are selected.
Benefits
MARKET ACCESS :

Besides providing access to our partners' platforms, The 777 gives you the opportunity to get their feedback and advice to be able to refine your business model and therefore, gain a better understanding of the market.
MENTORING AND COACHING :

We surround you with experienced mentors and coaches from our network, who can provide you with the right market insights and the best practices in technology.
GROWTH :

We offer more than money. At The 777, we give you a chance to be part of a dynamic network of Tunisian and French experts. Events and meetings with national and international coaches will be organized regularly to allow you to have testimonials, get advice, and obtain relevant feedback.
OFFICES :

We offer the incubated startups a top-notch infrastructure to enable them to develop and thrive in the best conditions.
VIRTUAL INCUBATION :

Distance shouldn't be an impediment to innovation and creativity. So, whether your startup is based in Tunisia or elsewhere, as long as your startup is tech-oriented and has a potential to become a global success, do not hesitate to join us.
OPEN INNOVATION :

We support startups that can respond to the existing needs of big industries like banks, ministries, telcos, etc.
This represents a win-win situation for both sides: the startup is sure about its exit, and the company can have an in-house team that can provide tech solutions for its greatest challenges.
Team
The 777 team is made up of professional experts, experienced entrepreneurs, and ecosystem builders who bring their expertise to the different startup incubatees through all the stages of their evolution.
Khaireddine FREDJ
CEO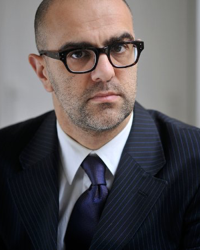 Daniel DOPPLER
PARTNER

Partners